PT1 AND PT10 CONVOLUTE WHEEL
The convolute wheels PT1 and PT10 are made with
nonwoven material wound in a spiral fashion, compressed and injected with special resins with addition of first
quality abrasive and glued around a bakelite core.
Given the characteristic construction, the PT1and
PT10 convolute wheels have to turn according
to the sense of rotation shown by the arrow.
The PT1 and PT10 convolute wheels have been developed to help manufacturers meet product quality and
efficiency requirements.
Suitable for heavy operation such as stainless steel rods
polishing and micro-deburring.
Can work uninterruptedly for many days at fast without
losing its properties.
PT1 adapts itself on the workpiece thanks to its properties. PT10 is harder and most suitable on flat surfaces.
(Other dimensions available on request)

25,4mm - 51 mm
150, 200, 250
25 - 25,4 ; 76,2; 127-115
SF - SSF
S/C
6000; 4500; 2500
Product image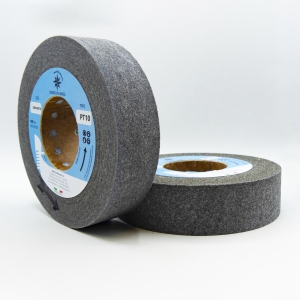 ---